Thanks to NSF Grant CAREER:2044871, Dr. Gold has funds for a multi-year fellowship bringing community college students to the UC Davis Bodega Marine Laboratory. The goal of this fellowship was to demystify science and the academic process. In addition to our scientific work, we hiked the redwood forests, went tide pooling, and had lots of valuable lunches with scientific faculty and professionals.
Congratulations to the 2023 Gold Lab Fellows!
Kyleigh Guitierez
Erik Ortega
Our main project involved studying clam burrows in the Bodega Marine Reserve, testing the hypothesis that clam burrows are associated with increased shells. This came from our initial observations that some burrows seemed to have an abundance of tiny, juvenile clam shells in the sediment surrounding them. If true, it could provide clams a natural buffer from the acidic water that build up in their burrows. Check out the poster we put together summarizing our work: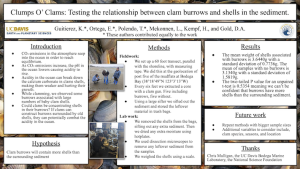 A big thank you to Hannah Kempf, Liyu Mekonnen, and Chris Mulligan for helping run the program. And thank you to Princess Gilbert, Paóla Benefo, Anya Brown, Lauren Ashlock, Alyssa Griffin, and Tessa Hill for their time and advice.
There will be a new set of fellows for summer 2024. Keep watch of this spot for details!